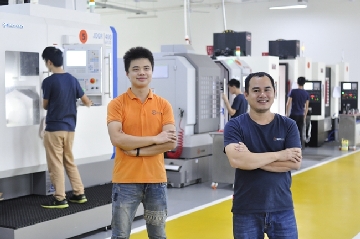 WayKen was established in Hong Kong, thef actory is located in ShenZhen, China, only an hour from Hong Kong. Our 20,000square feet facilities provide a state of the art workplace for over 60employees that included 2 independent factories of plastic prototype and metal machining.
WayKen Prototype shop is among China"s most experienced prototype manufacturers, including CNC Machining service, rapid prototyping and rapid tooling. WayKen as one of the rapid prototyping companiesin China, we want to offer solutions that benefit customers at all stages oftheir product development. We are a customer focused prototype shop and striveto meet all quoted lead times, deliver superior service and part quality andmaintain a competitive edge through innovative service offering and our highly skilled workforce. At WayKen, we say what we do and do what we say.
Whether it be our company"s engineering staff, our prototype machine shop professionals, our sales staff or our shipping personnel, the people of WayKen earn the trust and confidence of every customer one perfect part at a time. WayKen as one of the most competitive prototype manufacturers who has its own prototype machine shop included the CNC machine shop and other department, is not only a prototype shop but also one ofthe prototype makers that you can trust.
Our Goal is to continue supplying affordable quality prototypes, which contain the functionality of production intent. Our business model is based upon providing cost effective solution to our customers, which allows we prototype makers to deliver technically superior solutions at lower cost. Our biggest asset is our customer base which has grown through word-of-mouth to include customers from around the world from independent inventor designer to large Automotive, Medical, Household Applianceto Aerospace companies.
WHY CHOOSE WAYKEN
SERVICE
Professional and friendly service from atechnical sales team, comprising engineering and long serving industry professionals who can properly target your needs and provide sound advise on materials, processes and finishes.
QUOTING
Our quoting team is comprised of engineers and industry professionals who understand material properties, injection molding, and mechanical testing. Quotation turnaround within a couple of hours,offering consistent and competitive costs that is normally 30%-50% less than the US/European prices. Moreover allowing a quick project start compares to other rapid prototype companies.
TECHNOLOGY
Quality rapid prototyping demands the latest technology, managed by tight process controls. At WayKen, we pioneered this approach and built it into our culture. Latest technology machines and experienced model ensure your exact project requirements from this prototype shop.
QUALITY
High Quality Models delivered within thetime scales is of primary importance. Our highly skilled and experienced model makers ensure that the customers" prototype model is finished to the highest standard every time at no additional cost to the customer in our prototype shop.
DELIVER
WayKen Technical Sales Agents and Project Managers will work with you to arrange and organize the production of your projects and respond quickly to design changes. Project Lead Time is typically within a few days. A good understanding of our customers" requirements and working with them to provide the fastest lead times available.
So if you want all the advantages of rapid prototyping – instant quotes (okay, really fast), delivery in 3-8 days, and low cost – but with better accuracy, better surface finish, and better material selection – upload your CAD model to WayKen and give us a try!